I specialize in the breeding and training of sport line German Shepherd Dogs from proven international bloodlines under the kennel name of "vom haus Harrock".
I train for SchH, IPO, VPG to qualify and compete at the highest level.
I give seminars locally and internationally and advise the professional services, military, police and securities services in the United Kingdom and have given seminars in Canada and USA to the sport lovers and police.
In South Africa my pupils have made the South African WUSV World Championship team to compete overseas on a regular basis, Grant with Canto obtaining 11th position at the 2005 World Championship in France.
Wade with Vasco regularly did well and Greta with Ebro worked hard at three world events with good results. Ian with Rikkor, a show line bred GSD, also qualified at this very high level.

We now wait for the next generation of young dogs to come through the ranks and qualify.

A number of "vom haus Harrock" dogs are working as detection dogs around the world and this past year two dogs of the WUSV team were bred by "vom haus Harrock". Well done to Gillian with Xtra and Rose with Xarro, they both did us proud. So look out for Dave Harris Dogsport trained and von haus Harrock bred dogs, they will be on the field and winning.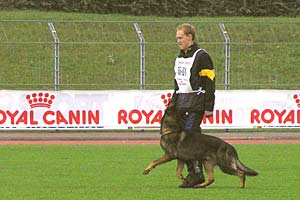 Grant Higgo with Canto at the the 2005 WUSV World Championship in Hagenau, France.

A great team that achieved 11th Place.